Before starting a definition of tariff watch.
Tariff watching is a technique that allows a company, distributor or brand to regularly or continuously monitor the prices charged by its competitors in the market.
The importance of tariff watch for a company.
Today, it is important for distributors and brands to remain competitive. To do this, you need to know how to adjust your pricing policy on the products they market. And whatever the distribution channel, whether in-store or via the Internet. In other words, in order to make the right decisions, brands must constantly monitor tariffs, to monitor the evolution of the prices charged by distributors of their products. Distributors, on the other hand, must monitor the prices charged by their competing brands.
Tariff watching is therefore essential to develop its business strategy more effectively.
The 6 stages of the tariff watch:
Defining the competitive perimeter
Data collection
Product matching
Analysis
Decision-making
Moving into action
Step 1 out of 6: Definition of tariff scope
The first step in the tariff watch is to define its tariff scope. Retail Shake lets you track the brands you're interested in. All you have to do is click the "SUIVRE" button.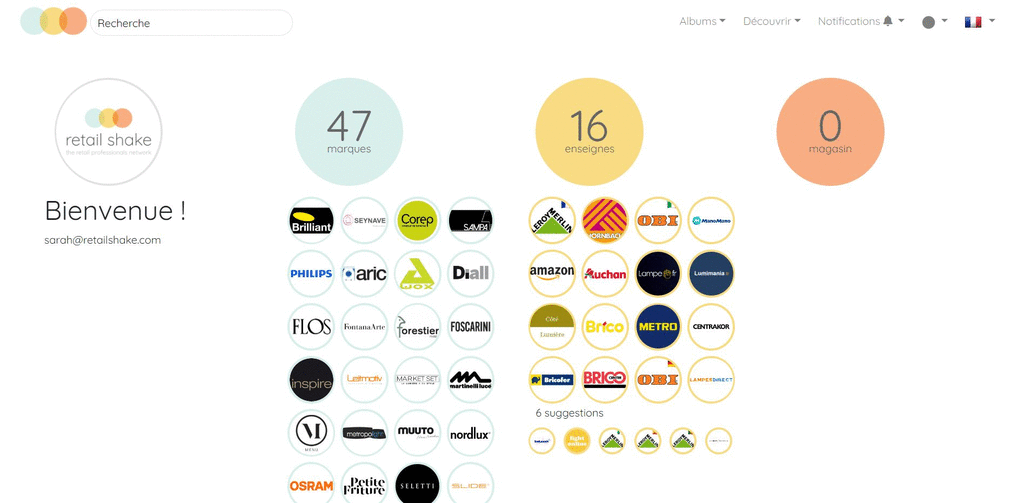 Step 2 out of 6: Data collection
Retail Shake offers smart pricing watch. Our robots scan the product pages of its customers and competitors on the internet in real time. Our solution scans 2,699 brands and retailers.
For example, the photo below shows the product sheets of a Seynave suspension in 6 brands: Leroy Merlin Italy, Leroy Merlin France, Weldom and Brico.
Step 3 out of 6: Product matching
Our artificial intelligence recovers all the product catalogs marketed on the market. Then it automatically establishes a match between these products. To do this, it uses barcodes, supplier references and image recognition.
Step 4 out of 6: Analysis and your price indices
Retail Shake calculates the price index for your brand and that of your competitors. You are then informed about the competing brands, the number of common references with them and their price indices.
On the example below, Retail Shake calculated 48 price indices for Leroy Merlin. We notice therefore that the ManoMano brand with 2828 common references and a price index of 97.86 compared to Leroy Merlin.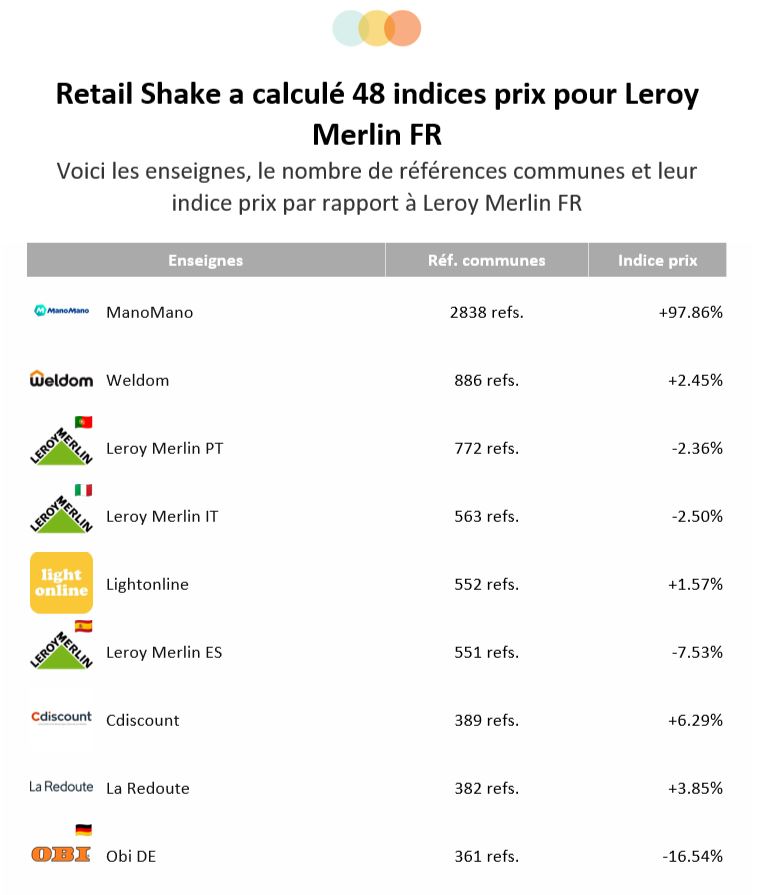 Step 5 out of 6: Decision-making
Once you have collected and analyzed the information on your pricing watch, you have better knowledge of your environment. However, gross rate watching is not enough to make the right decisions in the short and long term. You have to cross this with quantitative aspects (stock and digital distribution) and qualitative aspects (customer reviews, photos and texts, merchandising).
It is by combining the four main areas of marketing mix: product, price, communication and distribution, that a brand or brand is able to make the right decisions to ensure its success or that of its product.
Examples of decision-making related to the tariff watch analysis include:
Having to lower these prices in order to remain competitive.
Have the opportunity to increase rates by remaining competitive but increasing its sales margins.
Monitor its exclusives and distribution monopolies.
Step 6 out of 6: Moving to action
Finally, the final step: The move to action. The move to action is simply the things to do in the back office (central or store). The price change, the product repository (Product Information Management), ERP (electronic catalogue).
Do you want to optimize your ranges, make the right decisions quickly and have a real-time photo of your competitive space?