Usage case
The perfect marketplace
The aim of our examples is to give you all the best practices to implement to ensure your offer is better than that of your competitors.
In this example, we take a closer look at the perfect marketplace.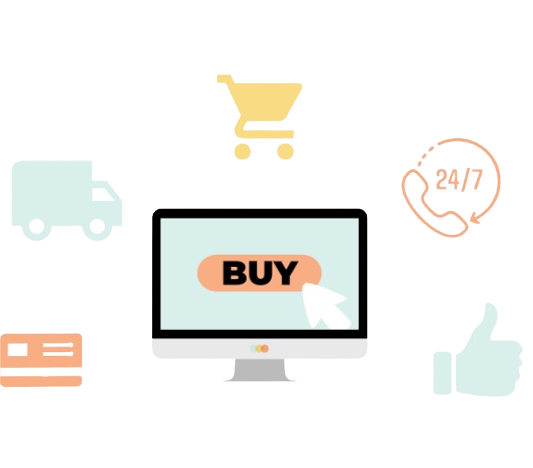 Retail, e-commerce and marketplace distinction
Retail is more commonly known as "physical sales" or "in-store sales", which means that a person (a retailer) or a company sells its products in the state in which it bought them. A transaction between the supplier and the purchaser takes place within a store.  
E-commerce refers to all of the commercial transactions which occur online. Most retailers also have an e-commerce site. 
The marketplace is a tripartite model involving the seller, buyer and operator. A seller offers its products for sale on a third-party site. For example, you can find La Redoute products on the Leroy Merlin site. In such cases, we say that Leroy Merlin is the marketplace of La Redoute, even though Leroy Merlin also sells its own products on its e-commerce site.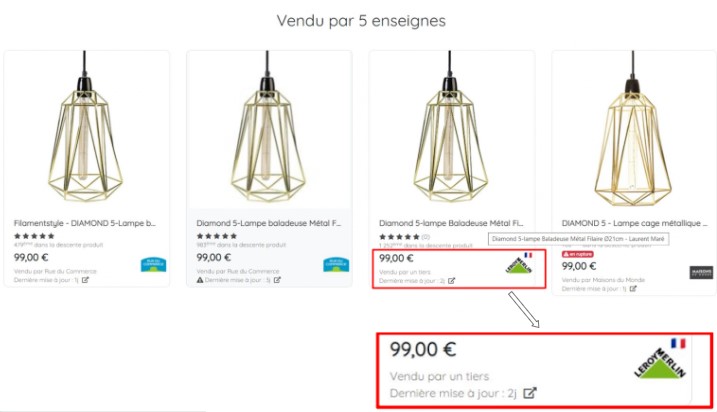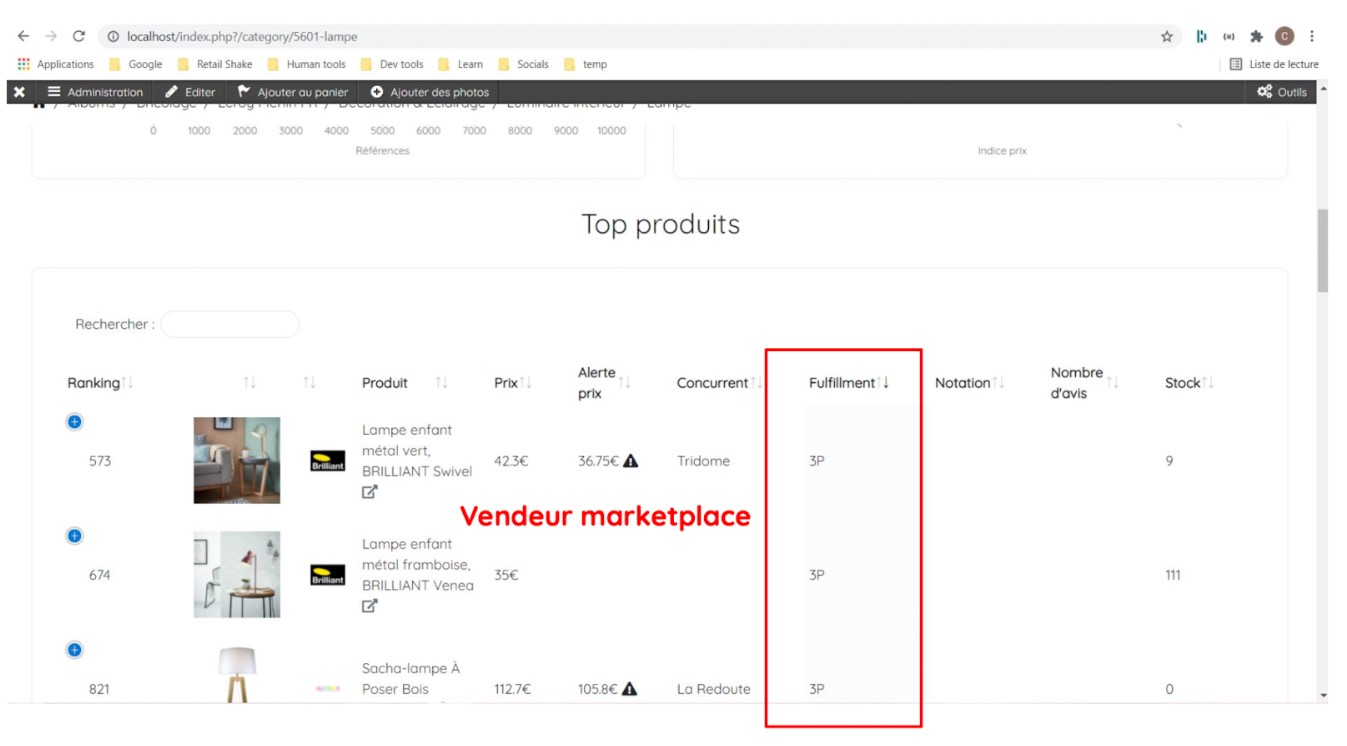 Monitoring the prices of marketplace sellers
Today, consumers can find the same product in-store, on an e-commerce site and on a marketplace. The problem is that it can be on sale at 3 different prices (screen shot with photo). Today we know that a consumer's purchasing process consists of finding out the price online prior to making a decision. With mobile phones, this has even become a reflex when buying in-store.
The product manager should know at what price their products sell for on all different channels, and their pricing strategy must be applied to each. 
Retail Shake enables you to know where your products are in real time, at what price and on which marketplaces.
Questions to ask yourself
To align your price strategies across all of your sales channels, it can be useful to take into account aspects which are peripheral to the displayed price.
What is the marketplace's delivery cost?
Consumers will choose to purchase a product based on the total receipt cost, that is to say, the product price plus the delivery cost. This is a delicate issue because if your product is sold cheaper on the marketplace because the delivery cost is high on your partner marketplace, this will incite consumers to buy in-store. Ideally, you need a marketplace partner who places a cap on delivery costs. 

What types of delivery are offered?
Delivery timeframes and comfort are accelerating sale factors. "Next day delivery" goes down better than "Next week at a parcel pick-up point". It's very likely that your products will sell more quickly in the first case.

Are other competing products sold on the same marketplace?
A marketplace has every interest in selling the same product from different suppliers. This enables them to guarantee availability of the offer even if one of the suppliers runs out of stock. This means however, that the product is displayed at different prices and this creates immediate competition between the various vendors.