How much does it cost?
Retail Shake offers a range of packages to suit your specific needs for our
functions in your day-to-day business. Choose the license and pricing that
matches each of your team members and your budget.
Why not use our skills to get an even sharper competitive edge? Need analysis,
advice, strategy on an ad hoc basis or regularly? Add the Consulting option. We
create a proactive solution tailored to meet your needs.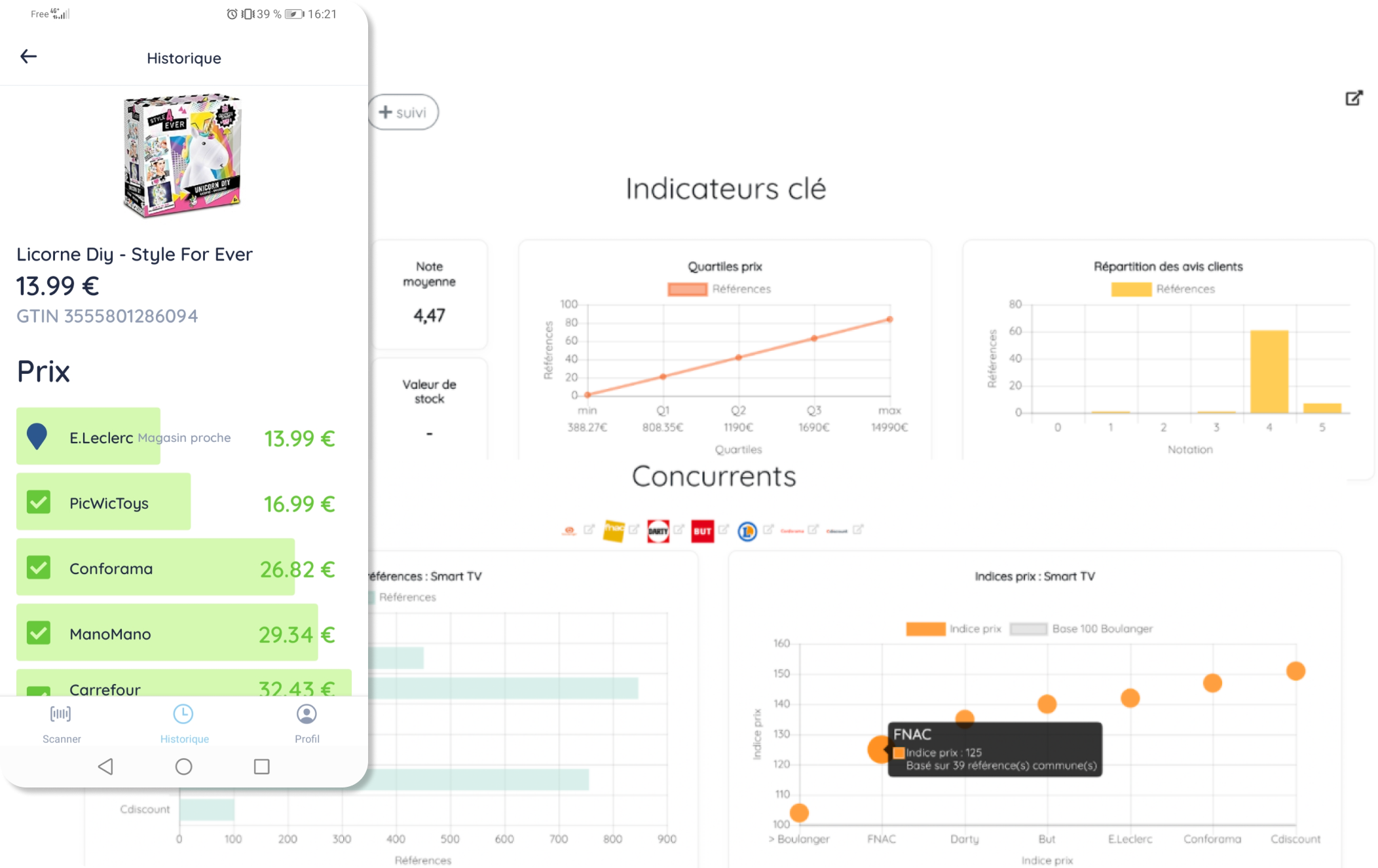 Retail Premium
For daily professional use in VSEs/SMEs. €99 excl. tax per month and per user, billed annually. No setup fees, no commitment.
Retail Consulting
Retail solutions in large companies to support your product team: training, competitive benchmark, data analysis.
Retail Data
Retail data supply solutions for your Information System.
Why choose the Consulting option?
Benefit from tailored collaboration between our teams.
From €500/man-day
Our experts are constantly improving their knowledge of daily developments in every market sector. They have their finger on the pulse in all sectors plus a wealth of experience.
Our team of experts are ready to answer questions about a specific problem or provide guidance with short-, medium- or long-term strategy. We can help with market research, providing you with conclusions and recommendations for pricing and any other details about your range. We enable you to optimise your current range or expand it, or even build and launch a new range if that's the right solution.
We also help you to prepare for annual negotiations with customers and suppliers by providing you with a clear vision of the market at any given time. Retail Shake guides you to the best opportunities whether it be for distribution, for challenging your suppliers, for sourcing marketplaces, and much more.
The best deal in the market!
As you know, we are in the competitive intelligence business. That means we know we offer the best price. Retail Shake is the only solution in the world that simultaneously benchmarks prices, stocks, digital distribution, visuals, text and customer reviews. We provide high-end competitive and strategic analysis. And it's yours for less than 100€ a month – that's about 4€ per business day. That's why so many businesses choose us.
FAQ (Frequently Asked Questions)
How many competitive sites can you monitor for me?
The sky's the limit! We can monitor as many competitors as you like.
Do I need technical knowledge to use Retail Shake?
No, you don't need any technical knowledge to use our tool. And you don't
need to install anything. The tool is available online in SAAS mode. All you
need is a password to access our turnkey solution.
Will my competitors know I'm monitoring their prices?
No, your competitors won't know you're monitoring their sites for prices,
client reviews, and the like.
Is monitoring my competitors' pricing legal?
Yes, it's legal. We only use public data available on websites. It's even
useful for competition law.